Posted By Stephen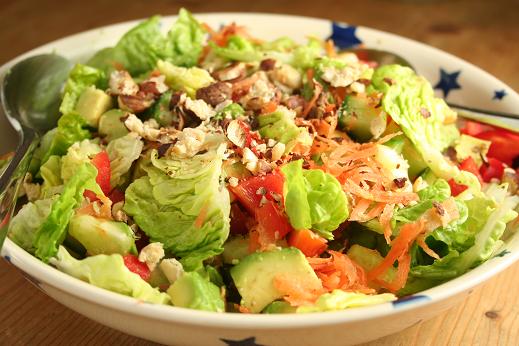 When staying in Kent with Kerri's mum over Christmas, we picked up some cobnuts at a market in Canterbury. I'm sure that most people reading this know what cobnuts are, but for those that don't, they are a type of hazelnut that has traditionally been grown in Kent over the past few centuries.
Last year we bought some green cobnuts and had marginal success cooking them. This year, we bought them after the season had finished, so they were dried and were almost like normal hazelnuts. As we wanted something light this evening, we just had a mixed salad and thought we'd give it some interest with some roasted cobnuts.
Actually, we dry-fried them and then I put them into a bag and bashed them with a meat tenderising mallet, then sprinkled them onto the salad. The bashing turned out well, because there were some large pieces to eat and also lots of smaller pieces that mixed well into the rest of the salad and gave it all a lovely roasty background flavour. It didn't need an elaborate dressing; just some good olive oil and a grind each of salt and pepper.
We do have some interesting plans for the rest of the cobnuts; hopefully we'll find time to do some of them!
No Comments! Be The First!
Leave a Reply
You must be logged in to post a comment.