Posted By Kerri
Like most people, we're a bit fed up with thinking about food. This means that we've eaten out most days this week as we're both lacking in inspiration and motivation to get into the kitchen. We're also avoiding the leftovers that we know we need to do something with but just can't summon up the energy or enthusiasm for.
Today, Stephen suggested we drive to the Hinds Head for lunch. We visited the Fat Duck for my birthday last year and resolved to go back and eat at the pub at some point. That was almost a year ago so it was a long overdue visit. Pictures are from Stephen's phone so are shocking, sorry!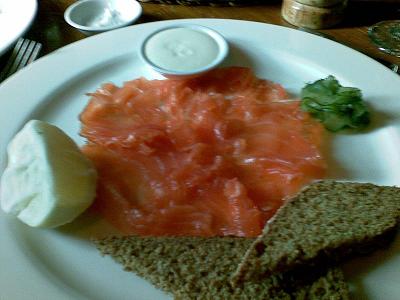 We'd left it too late to get a table in the restaurant but were happy to eat in the bar; despite the whole 'fed up with food' thing, we quickly decided that it would be a waste not to have both starters and main courses and had decided on what we wanted to eat within minutes of looking at the menu.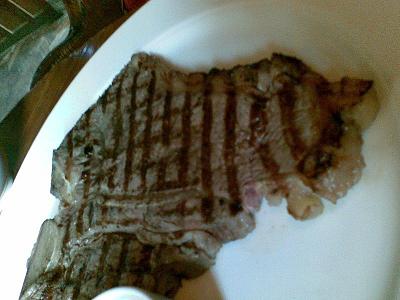 I chose the tea smoked salmon and soda bread, followed by the T-bone steak with bone marrow sauce. Since having smoked salmon last week, I seem to be hooked on it and this was a very good example. The tea smoking was subtle but definitely evident and the texture of the salmon was soft and melty. It was served with some lovely thick sour cream and pickled cucumber, the sweetness of the cucumber perfectly complementing the smoky flavour of the salmon.
I principally selected the steak so that I could sample the famous triple cooked chips which was a wise decision. As you might imagine, they were the perfect combination of crunchy on the outside and soft and fluffy in the middle. There was just the right amount of thick and thin chips too and they were perfectly (for perfectly read generously) seasoned with crunchy sea salt.
After some deliberation, Stephen opted for the bacon and pheasant terrine served with spiced pear chutney and toasted sourdough bread follwed by the shepherds pie. The terrine itself was dense and meaty and spiked with gherkins and picled walnuts which leant a pleasing sweetnesss to the dish, the chutney added another level of sweetness that was perfectly offset by the slightly charred sourdough bread.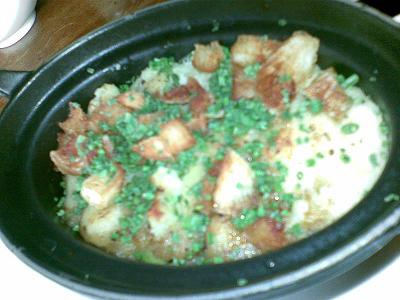 The shepherds pie was the highlight of the lunch though, served in an invidual cast-iron casserole dish and topped with crunchy potato pieces (almost like chips) giving way to a sweet and meaty mix of lamb shoulder, belly and sweet breads. Since tasting it, I've been trying to think of how to describe it and although it's a cliche, I can't put into words just how delicious it was. The meat was tender and melty, with just the right amount of gravy and potato. It was sweet but not too sweet, perfectly seasoned and intensely lamby in flavour. It's the kind of thing I'm going to wake up thinking about in the morning and not be able to rest until I've eaten…which could be a problem since the menu changes daily and the Hinds Head is a 45 minute drive away.
No Comments! Be The First!
Leave a Reply
You must be logged in to post a comment.