Posted By Stephen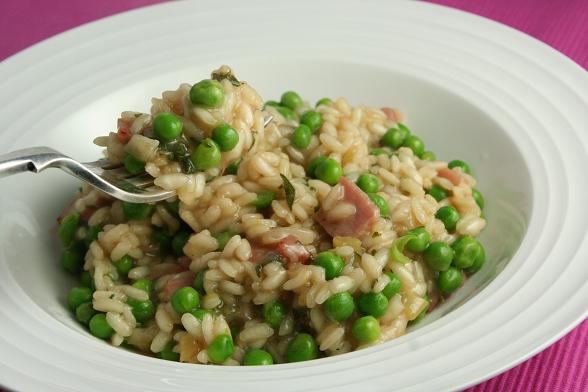 A fairly simply risotto this evening, this turned out to be a completely store-cupboard (and freezer for the bacon and peas) meal.  Which is rare when we are trying to think of new things to do a lot of the time and often end up needing to get at least a few ingredients at the last minute.
Ingredients (Serves 2):
1 medium onion, finely chopped
100g bacon (or pancetta or lardons)
2 sticks celery, finely chopped
12 sage leaves, finely chopped
2 cloves garlic, crushed
Half a cup of peas, pre-cooked
1-2 tbsps olive oil for frying
1 small glass white wine or white vermouth
250g risotto rice
1l chicken stock (preferably home made, but bought is of course fine if you don't have any)
Good handful grated parmesan (much better to grate your own from a block than to use pre-grated)
Heat up the oil and when it is hot, add the celery and onion. A minute or so later, add the pancetta and fry for a few minutes. Then add the garlic. When the onion and celery have softened, add the rice and turn up the heat. The rice should fry and go a bit translucent now, but if it starts to burn then turn it down. After a short while, add the wine or vermouth and stir while the alcohol burns off.
Turn the heat back down and when the wine has been absorbed, start adding stock a ladle at a time, stirring until it has been absorbed until it has been absorbed and then adding some more. We used some home made chicken stock for this and it does make quite a difference (all the bones from those roast chickens we've been eating have not gone to waste). All this stirring brings out the stickiness from the rice. If you run out of stock before the rice is cooked, then just start adding water. When the rice is cooked but still has just a little bite left to it, it is done.  Shortly before it is actually done, stir in the chopped sage leaves.  When it is actually done, stir in the grated parmesan and the peas and check for seaoning.  Serve!
The home made chicken stock that we used was very chickeny, which resulted in a really lovely rich taste.  The stock also tasted quite strongly of leeks (we must have had surplus leeks when we made it that we added into it) which went well with all the other flavours.
No Comments! Be The First!
Leave a Reply
You must be logged in to post a comment.