Posted By Kerri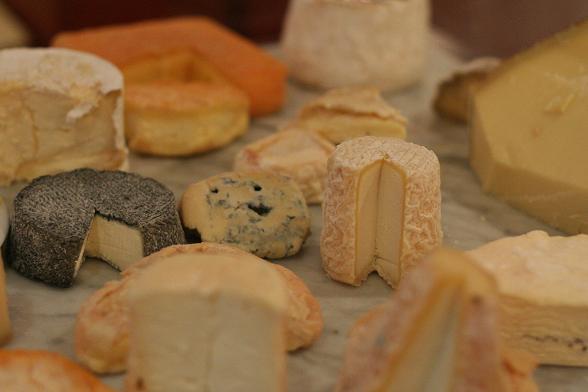 It's taken me a while to get round to making this post as I suffered from quite a severe cheese hangover the day after attending the class at Le Bouchon Breton. I should point out that this had absolutely nothing to do with the fabulous cheese I ate during the class but everything to do with the fact that I'm very fond of cheese and find it very difficult to know when to stop eating the stuff.
Much like the oyster masterclass I attended, the cheese class began with a glass of Champagne and a chat with the Fromellier Jean Claude Ali Cherif. He explained that the cheese served in the restaurant changes every week depending on what is in season and focuses on a specific region each time. This week, we would be looking at cheese from the Champagne region which is at it's best from July-October; my visit at the end of September was therefore very good timing.
Traditionally, cheese was always served with red wine. The thinking on this has however been changing for some time and Jean Claude, like many others, believes that most (85%, to be precise) cheese is best served with white wine. Rose can also work particularly with herbed cheese. Consequently, most of the wine we drank was white which suited me as although I'm learning to like red wine, I prefer white and agree that it's a better match with cheese.
Officially, there are 450 French cheeses but according to Jean Claude, it's generally accepted that the real figure is closer to 1000. We had a selection of 12 to taste that evening starting with a Jean de Brie that was matched with a sparkling rose Champagne. This was probably my favourite and was a great wine match too. The cheese was incredibly ripe and had a smooth, creamy texture not unlike goats cheese but without the dry, chalky finish that I dislike. Jean Claude explained that in order to taste the match at it's best, you should sip your wine, taste your cheese and then sip your wine again and, having done this, I noticed a real hit of grassiness in the cheese that was only faintly apparent before tasting the wine.
The second cheese of the evening was a L'Ervy Fermier au Lait cru which was served with a Petit Chablis. This was another really good match, I loved both the cheese and the wine and together they were very much a winning combination. The cheese was very ripe, almost running in the centre and had a fairly sharp top-note to it. This was backed up by a vegetal and almost meaty flavour with a peppery note around the edges and a very pleasing mouth feel.
We kept the same wine and moved on to a Le Bouchon d'Armance. I enjoyed the cheese but the wine match didn't sit so comfortably for me, I felt it was slightly too acidic for the sweet, nutty cheese.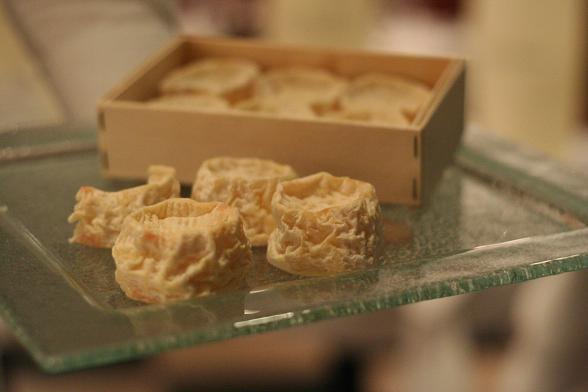 Same wine again but this time a cow's cheese: Le St Jacque. This was beautifully presented and looked like something from a chocolate box. More subtle in flavour with just a hint of nuttiness and vaguely reminiscent of cauliflower, it worked well the Petit Chablis and reminded me of a stronger, more fully-flavoured Camembert.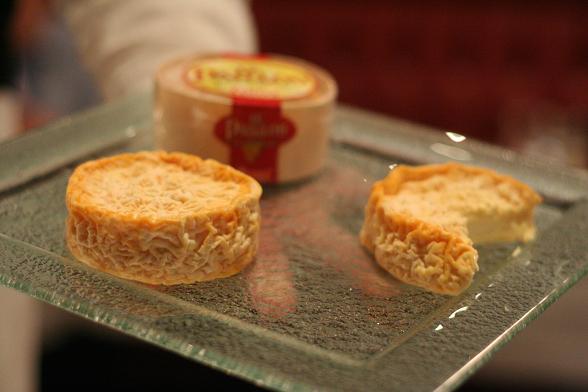 Next up was a Le Paillou affine au Chablis – the affine translates as washed so: washed with Chablis. This was served with a non-vintage Champagne and had a strong, smoky aroma and flavour that was balanced very well by the slight sweetness of the wine. I've written 'bacon' in my notes which regular readers will know is a flavour I love so it's clear that I enjoyed this cheese immensely.
The next cheese was my least favourite of the evening: a L'Exploratuer. It was very sweet and tasted faintly of roses but had a harsh, bitter edge to it too. The texture reminded me of cheap butter: oily and overly rich in it's mouth feel. I enjoyed the Domaine de la Chalotterie though, a very good rose.
The Le Bleu Cendre au Lait de Chevre was described by Jean Claude as a mild Roquefort, the rest of the guests described it as "evil looking". My notes are short on this, probably because I'm not a huge fan of blue cheese but I did note that it had a good acidity and a long finish. I'm pretty sure I was talking about the cheese here and not the wine (matched with the rose I mentioned above) but you'd be forgiven for being confused by my use of wine terminology: it was getting late by this point and I was running out of adjectives!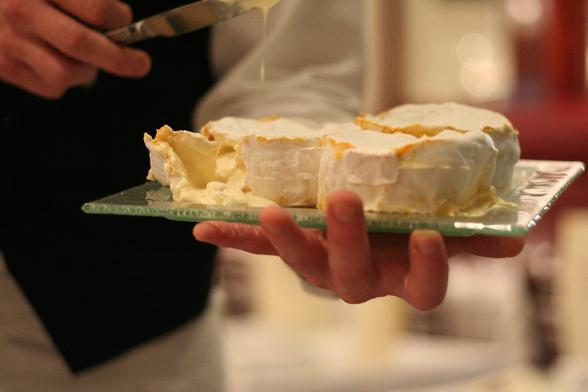 At this point we moved on to red wine, a Marsannay paired with a St Simeon cheese. This was a pasteurised cheese and was incredibly ripe, overly-so in Jean Claude's opinion although I enjoyed it. This cheese had really complex flavour levels with an oaky, woody centre and a slight bitterness on the rind and was a good match for the medium bodied red wine.
We moved back to the rose Champagne at this point and tasted a Le Langre. This had a definite note of sulphur to it and was described by Jean Claude as both "aggressive" and "sharp". It was very drying on the palate and was the first of a series of quite challenging cheeses.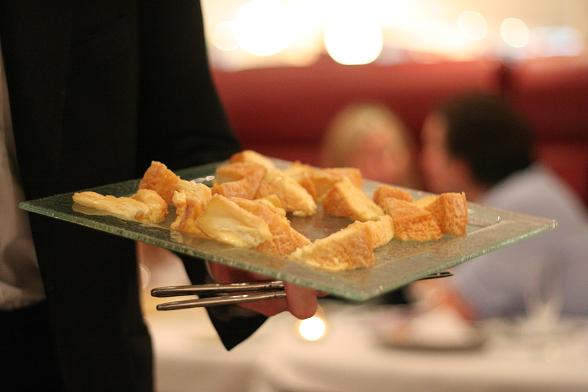 We followed this with a Soumaintrain that was matched with a Banyuls red wine. Described as smelling of wet caves, there was a definite mouldy aroma to this cheee which dissipated slightly as it warmed up and developed into something nutty and complex.
The penultimate cheese was a Cendre de Champagne matched with a port. This was a difficult one to categorise as it seemed to go back and forth between salty and sweet with a hint of ash. There was a definite note of ammonia on the nose that lingered for a long time and came through in the taste, a difficult aroma and flavour to process and not a favourite of all the cheeses.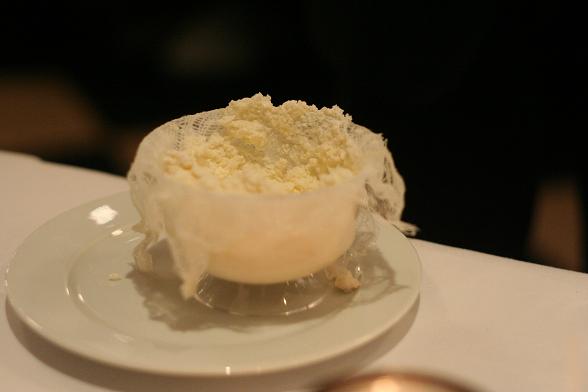 Lastly, a Veritable Fontainebleau served with a Muscat. The cheese had an unusual texture, reminiscent of cottage cheese which actually worked well with the sweet Muscat but was a little too unusual for me to enjoy at the end of the evening, especially when compared to some of the others that I had really enjoyed.
Looking back through my notes, it's obvious that the last four or five cheeses were more unusual than most of us had tasted before and required a little work to understand and enjoy. For me, this was one of the real highlights of the class and it was a great opportunity to taste something specialist that I'm unlikely to find in my local supermarket or even speciality cheese shop.
Jean Claude is incredibly knowledgeable on the subject of cheese and the informal approach adopted at Le Bouchon Breton is one that works well: nobody felt uncomfortable saying they didn't like a particular variety and we were encouraged to talk about the flavours we could taste without feeling we were being judged or tested. It was also interesting to talk to some new people with a shared interest, there was a real mix of attendees ranging from couples to a small group on an office night out. With the festive season fast approaching, it would make for a really different and enjoyable alternative to the traditional Christmas party.
My advice however would be to try and exercise some restraint when it comes to how much you eat! Both Jean Claude and Joann (who ran the oyster class and accompanied Jean Claude on the cheese class) are incredibly passionate about what they do and generous with their measures. They will keeping adding cheese to your plate and filling up your glass which is no bad thing as you certainly don't leave feeling hungry or thirsty but, if your self-control is as lacking as mine, you may find yourself with a bit of a headache and a cheese mouth the next morning!
The classes fall on the last Tuesday and Wednesday of the month and run throughout 2009 and 2010 with a break in December 2009 for the Christmas holidays. The classes will start at 6pm and cost £50 per person.
Jean Claude is also hosting a Fromellier dinner, which is to be held on the evening of the 23rd of December 2009 from 7.30pm. Dinner will cost £100 per head and include four courses with a glass of wine paired with each course and a glass of Champagne on arrival.
To book, contact reservations at Le Bouchon Breton on 08000 191 704.
Le Bouchon Breton
8 Horner Square,
Old Spitalfields Market,
London E1 6EW
You can see the full set of pictures here.
No Comments! Be The First!
Leave a Reply
You must be logged in to post a comment.