Posted By Kerri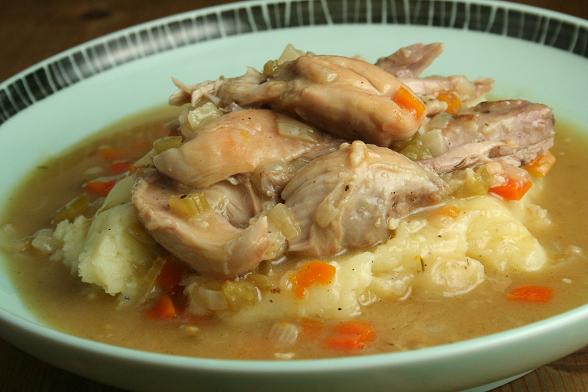 With the clocks going back yesterday, it seemed the right time to start thinking about proper winter food. And that means casserole. And pie. But casserole if you've eaten a lot of rich food over the weekend.
We had some chicken stock that needed to be used up so, chicken casserole was the obvious answer. This is quite a straightforward recipe that doesn't take too long to prepare (unless your kitchen light bulbs start exploding while you're trying to skin the chicken pieces) and can then be left to simmer without needing any other attention. Despite the short ingredient list, it's fully flavoured but not so rich that you can't afford a decent serving of buttery mashed potato alongside!
Chicken Casserole
Serves Two
Chicken pieces with bones (we used two thighs and two legs)
3 tablespoons flour (2 tablespoons to be mixed with the salt and pepper to make the seasoned flour, 1 tablespoon to be stirred in before the chicken is returned to the pan)
Salt and pepper
Oil
1 medium onion, finely chopped
2 garlic cloves, crushed
1 carrot, diced
250ml chicken stock
75ml white wine
2 sprigs thyme, chopped
4 sage leaves, chopped (optional)
Bay leaf
Coat the chicken in the seasoned flour. Heat the oil and brown chicken on all sides – about 10 minutes.
Remove the chicken and add more oil if necessary.
Add the onions, celery, carrot and garlic and cook slowly until soft – about 10 minutes.
Stir in the excess flour and cook out for a couple of minutes. Return the chicken to the pan, deglaze with the wine, add the stock and herbs.
Season and cook for one hour on a low heat.
Check for seasoning and serve.
It's not easy to make this look attractive. We normally serve it on the bone but had a little time today while waiting for the mashed potatoes to finish cooking so stripped the meat and added it back to the liquid. It was easier to eat but still didn't make it look very pretty unfortunately. It tasted good though which is the main thing.
No Comments! Be The First!
Leave a Reply
You must be logged in to post a comment.