Posted By Kerri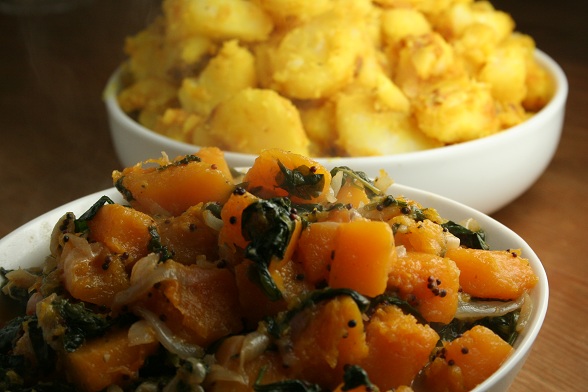 After vowing last week to make more regular updates, I've slipped again and this is almost a week old. Sorry, this week things will definitely be back to normal.
We'd had a butternut squash hanging around the kitchen for a while that really needed to be used so Stephen came up with this recipe for it, which is a lot like sag aloo but with squash instead of potatoes. I like butternut but I prefer to eat it in spicy dishes so the sweetness is masked by other flavours a little. Luckily, Stephen was aware of that (not so much luck as me repeating it over and over I suspect) and kept it in mind while cooking this dish.
The potatoes were also used in an effort to rid the kitchen of leftover food and worked very well. Don't let the relatively small amount of cayenne pepper fool you, these were fiercely spicy but a perfect match for the warm, sweet butternut.
Dry Potatoes with Ginger and Garlic
Serves Four to Five (we halved this)
625g potatoes
Ginger, 5×2.5, peeled and coarsely chopped
3 cloves garlic, peeled
3 tablespoons water
1/2 teaspoon turmeric
1 teaspoon salt
1/2 teaspoon cayenne pepper
5 tablespoons vegetable oil
1 teaspoon fennel seeds
Boil the potatoes, leave to cool and then chop into 2-2/5cm dice.
Put the ginger, garlic, water, turmeric, salt and cayenne pepper into a blender and blend to a paste.
Put the oil into a large frying pan and set over a medium heat. When hot, add the fennel seeds ans let them sizzle for a few seconds. Add the paste and cook for two minutes.
Add the potatoes and fry for 6-7 minutes or until the potatoes have a golden-brown crust.
No Comments! Be The First!
Leave a Reply
You must be logged in to post a comment.