Posted By Kerri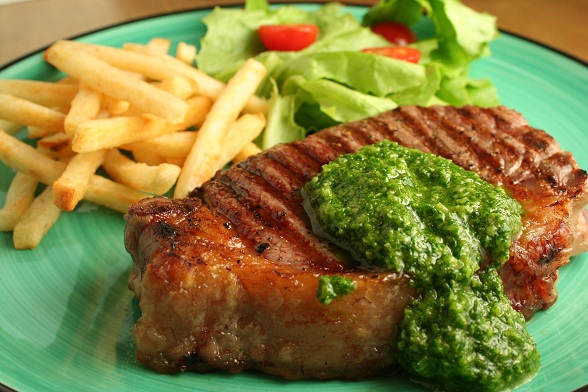 Steak. The one thing guaranteed to smoke out the entire flat and really test the batteries in the smoke alarm. Even with all the windows and doors open, the smell lingers for what seems like days and the entire kitchen becomes covered in grease.
It's a good job we knew these were going to be good (they're from Allen's, the two we cut off the huge sirloin) otherwise they would have stayed into the freezer until barbecue season which, given this weekend's weather, seems a fair way off.
Simply seasoned on both sides just before they went into the griddle pan and served with a chimichurri sauce, some oven chips and a traditional Argentinian salad: lettuce and tomato. There are many variations on this sauce, we just used an amalgamation based on what he had in the fridge.
Chimichurri Sauce
2 tablespoons olive oil
1 tablespoons lemon juice
2 tablespoons parsley, chopped
2 tablespoons mint, chopped
1/2 clove garlic, crushed
1 shallot, chopped
Salt and pepper to taste
Blend ingredients together, refrigerate for around two hours before serving.
No Comments! Be The First!
Leave a Reply
You must be logged in to post a comment.