Posted By Kerri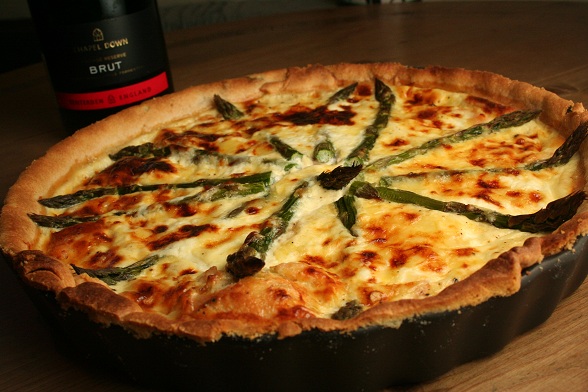 Since it was St George's Day, Stephen suggested we cook some asparagus. Not needing much of an excuse to eat asparagus, I happily agreed but remembered that it's still a bit early and the spears are a bit tough. I decided to use the asparagus in a quiche, hoping the baking would sweeten and tenderise the spears.
The baking did indeed tenderise the spears but that's about the only thing that went right. I didn't have enough of the egg and cream mixture but went ahead and poured it on top of the onions/trout/asparagus anyway. I thought I might be able to rescue it by adding some creme-fraiche and milk but it just sort of settled on top. I sprinkled on the cheese anyway and shoved it in the oven, hoping for the best. It started to puff up which encouraged me but it just didn't seem to cook. After about 40 minutes, I decided to grill the top so that it was at least brown and slightly attractive looking.
I took it out of the oven and left it to settle while I busied myself with a potato salad. Stephen arrived home and said it looked great. Then we cut into it and the whole thing collapsed. The insides were a curdled mess and looked thoroughly unpleasant and inedible. Stephen, who admits he'll eat pretty much anything, went ahead and tasted it and said something kind about how the flavour was good so we ate it anyway. With our eyes shut. He was right, the flavour was good but whoever coined the phrase "we eat with our eyes" was right too.
Needless to say, I'm not going to add the recipe. I might make this again though, principally because it is a good flavour combination but also because I got far too much pleasure than is normal from arranging those asparagus spears. If that works out then I'll make another post, if it doesn't then, well, it'll be my little secret.
PS from Stephen – that's a bottle of Chapel Down brut sparkling wine in the background. Most people drink some sort of English ale on St George's Day but we decided to go with English sparkling wine instead. It was really good – we've had it a couple times before (along with Nytetimber which I used to think was a bargain but has risen in price quite a bit over the past few years). It had lovely yeasty and fruity (peachy and citrus) flavours along with a hint of floral aroma. Just the sort of thing you'd expect from a well balanced Champagne, and cheaper than most of them.
No Comments! Be The First!
Leave a Reply
You must be logged in to post a comment.