Posted By Kerri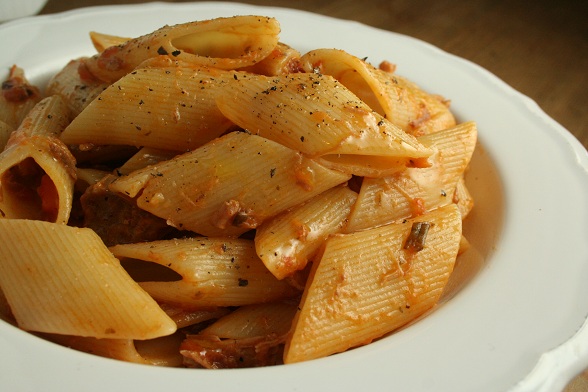 Finally. I've been planning to make this for what feels like forever but each attempt has been thwarted for one reason or another. A couple of weeks ago, I actually went to the butcher and purchased the ribs I needed but a bout of illness meant I had to put them in the freezer. Needing the freezer space for ice blocks this weekend, I was forced to make this on Saturday and, I have to be honest, it felt like a bit of a chore. Gone was the enthusiasm I previously had for the dish, replaced by a desire to be outside in the garden with a glass of wine. Still, it had to be done and, having just finished a huge bowl-full, I'm glad I sacrificed the sunbathing for the stove.
My initial plan had been just to use ribs for the dish but I'd picked up a pack of reduced diced pork shoulder in Waitrose so that went in too. The original inspiration came from the pork ragu I made back in April using leftover pork which had worked well but was somewhat lacking in porky flavour. I hoped using bone-in ribs would add the flavour that was missing last time and, I think it did. Of course, that flavour could have come from the pork shoulder. My ability to change only one thing at a time when tweaking recipes continues to fail me so I don't know for sure. I liked it though although I would add an extra tin of tomatoes next time. Full of rich, meaty flavour but with a lightness coming from the tomatoes and herbs. I used white wine this time instead of red which also contributed to the lighter feeling.
Removing the meat from the bone was a little faffy, it's easier to do that when everything is still hot and I didn't have time on Saturday so had to do it while re-heating the ragu tonight. The initial browning takes a little while too but it's worth paying attention to this stage to maximise the flavour. Aside from that, it's a dish that looks after itself which meant I got my glass of wine in the garden eventually.
Pork Ragu
Serves Four
8 pork ribs
450g diced pork shoulder
2 onions, finely diced
4 cloves garlic
1 large carrot, finely diced
2 sticks celery, finely diced
2 bay leaves
Large handful mixed herbs (I used sage, oregano, rosemary and thyme)
Tablespoon tomato puree
Salt and pepper
Large glass white wine
Tin tomatoes
1 litre vegetable stock
200ml milk
Start by browning the seasoned pork ribs and shoulder in batches. Remove to a plate and reserve.
In the same pan, soften the onions, garlic, carrot and celery. Add the bay leaves and herbs and mix, cook for a couple of minutes.
Next, add the tomato puree, mix and cook for a couple of minutes. Season.
Deglaze the pan with the wine, add the tomatoes, the stock and the milk.
Return the meat to the pan, bring to the boil, reduce the heat and simmer for 3-4 hours, or until the meat is falling apart. Don't forget to keep an eye on the liquid level and add more water if necessary.
No Comments! Be The First!
Leave a Reply
You must be logged in to post a comment.