Posted By Stephen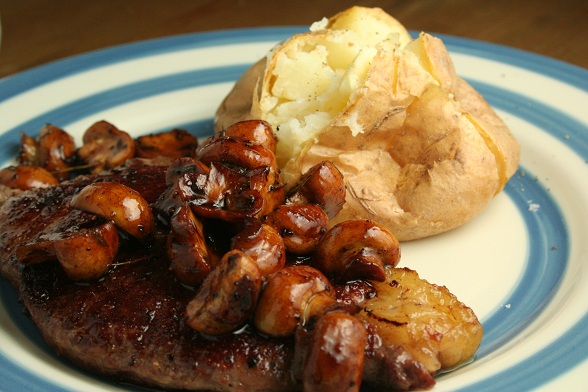 Kerri was out tonight so it was up to me to cook my own dinner and I found that I was craving STEAK. But in an attempt to be reasonable and not over-indulge after last week's continual over-indulgence, I bought a smallish steak. Which meant that I over-cooked it while being distracted by the smoke alarm.
Served with a baked potato which was good and some pickled mushrooms that we saw being cooked on Saturday Kitchen this morning. They were good too. Just the steak was a bit overdone.
I can't remember the exact recipe for the mushrooms (it will be online somewhere) but I just made it up as I went along and it was something like this:
Slice some button or small chestnut mushrooms. Fry these in a little olive oil with some thyme sprigs. Season with salt and pepper. Pour in a splash or three of sherry vinegar and keep cooking until the vinegar has almost evaporated. Then turn off the heat and they are finished. On TV they added some more oil at this point and used them as a dressing, but I didn't.
No Comments! Be The First!
Leave a Reply
You must be logged in to post a comment.