Posted By Kerri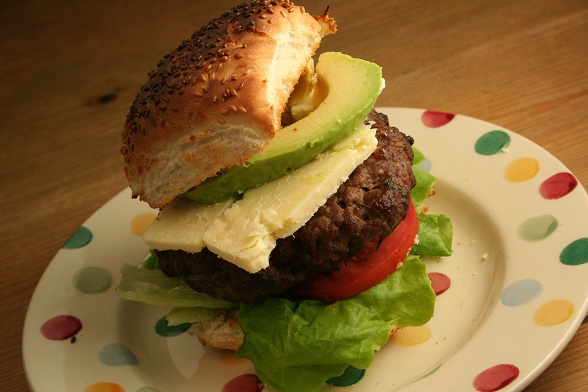 First of all, I should probably point out that we're not dead. And apologise to those people who have emailed us to check that the mystery dinner wasn't the end of us after all. We've just been busy. Again.
This was actually last Friday night's dinner, eaten on our laps in front of the TV. It was the opposite of what he had planned for the evening (a trip to the Tate Modern for a small amount of culture followed by dinner in the restaurant) but was exactly what we needed at the end of another long week.
The burgers weren't as good as usual and we realised afterwards that this was because we normally cook them on the barbecue. The crunchy outsides and charcoal flavour that comes from outdoor grilling was noticeably absent and served as another reminder that Autumn is definitely here. That doesn't necessarily mean we can't barbecue, it just means that I need to hunt Stephen's raincoat out of storage and remind him to do the right thing next time he suggests burgers for dinner.
No Comments! Be The First!
Leave a Reply
You must be logged in to post a comment.