Posted By Kerri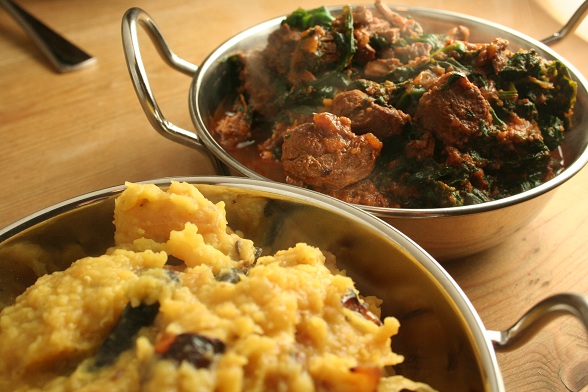 Saag gosht is our favourite Indian dish and one we fight over when we go out or order a takeaway. I usually remember first and "bagsy" it then offer to share it with Stephen but really we should both order it as I'm not very good at sharing food. I thought it would be a good dish to use up a half shoulder of lamb that was taking up a lot of space in the freezer and reasoned that there would be enough for both of us.
The recipe was from Camellia Panjabi's "50 Great Curries of India" which is fast becoming my favourite Indian recipe book. I find it much easier to follow than Madhur Jaffrey and have preferred the results. The only complaint I had about this is that it still wasn't hot enough for me. I've found this with MJ's recipes a lot and always increase the spicing but this is the first time I've noticed it here so need to allow for that next time. Otherwise, a really successful dish; less oily than a take-away but I prefer that anyway. Served with chapatis and moong dal.
Palak Gosht
Serves Four
700g lamn
2 x 0.5cm pieces of fresh ginger
2 cloves garlic
2 green chillies
100ml yoghurt
1/4 tsp cumin, ground
200g spinach
Oil
1 bay leaf
1 black cardamom
2 cloves
225g onions, chopped
1 tsp coriander seed, ground
2 medium tomatoes, chopped
1 tbsp tomato puree
1 tsp salt
Puree the ginger, garlic and green chilli in a blender. Whisk the yoghurt and add to the puree along with the cumin powder.
Marinate the lamb in this mixture for an hour, longer if possible. Blanch the spinach in boiling water with salt then drain and puree.
Heat the oil in a large saucepan and add the bay leaf, cardamom and cloves. When the oil is really hot, add the onions. Fry for 15 minutes over a low to medium heat.
Add the coriander powder and saute for 2 minutes, stirring continuously. Add the cumin, fry for 10 seconds and then add a little water. Allow the spices to cook for a couple of minutes.
Add the meat and it's marinade, stir and cook for 10 minutes until the yoghurt is absorbed. Saute the meat for 3 minutes and then add the tomatoes and tomato puree and cook for a further 2 minutes. Add 250ml hot water and 3/4 tsp salt. Turn the heat to low, cover with a lid and leave to simmer for a couple of hours. Just before serving, add the spinach and cook for a further 5 minutes. Check for seasoning and serve.
No Comments! Be The First!
Leave a Reply
You must be logged in to post a comment.