Posted By Kerri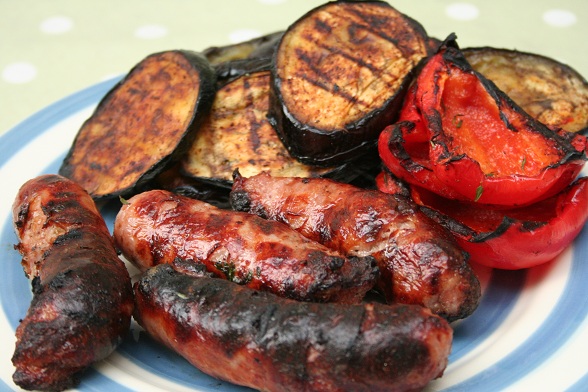 We had lots of errands to run today and, when we were finally finished, we realised we hadn't thought much about dinner. We'd discussed going out to eat but when it came to it, we were too hot and tired so decided to head home and barbecue something instead.
Earlier this morning, I popped into the new Union Market food shop that has opened near to us. It's a beautiful shop, on the site of the old Walhmam Green tube station near Fulham Broadway. It used to be a TGI Friday's and thankfully, someone had the good sense to tear it down and replace it with this brilliant new place.
While I was there, I tasted some really good sausages so, after the barbecue plan was formed, we stopped off to pick some up. They didn't have any soft rolls or baguettes left so we grabbed the last packet of wraps to, well, wrap our sausages in. Some fried onions, barbecued peppers and aubergines later and we had ourselves a somewhat fusion but very fine dinner.
No Comments! Be The First!
Leave a Reply
You must be logged in to post a comment.