Posted By Kerri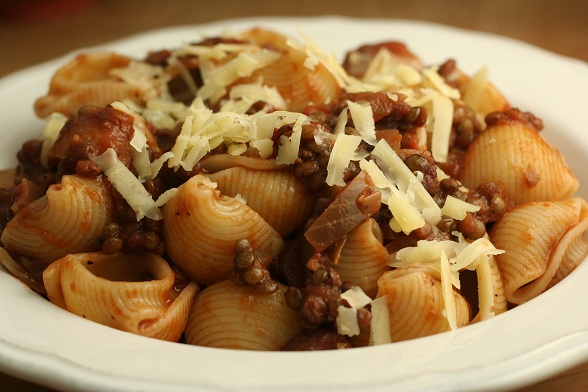 I wrote this up at the time of eating but forgot to post it and have just found it in the draft folder. Lucky for me since I wouldn't have remembered any of this.
Both Stephen and I are recovering from heavy colds and today's weather meant we didn't feel much like venturing from the house. At this time of year, there's not a lot in the fridge as there's so much going on in the evenings that we're not finding much time to cook. There are always lentils in the cupboard though and always some kind of bacon in the freezer so this was easy to put together while we snuffled and sneezed our way through the day.
Not the most exciting dish for a Saturday night but it was easy to cook and since neither of us have much of an appetite anyway, it's relative simplicity was soothing and comforting. I ate mine with pasta, Stephen had his with bread.
Lentil and Bacon Ragu
Serves Two
250g bacon
1 onion, finely chopped
2 cloves garlic, crushed
Bay leaf
Large handful herbs, finely chopped (I used fresh thyme and rosemary)
Tablespoon tomato puree
200g puy lentils
Salt and pepper
Nutmeg
Glass red wine
300ml vegetable stock
Worcester sauce
1 tin tomatoes
Start by frying the bacon until the fat has rendered. Remove to a plate.
In the same pan, add some olive oil and then soften onion and garlic. Next add the bay leaf and the herbs and cook briefly before stirring in the tomato puree. Ensure everything is coated and then cook for a couple of minutes.
Now add the lentils and give everything a good stir. Season and grate in the nutmeg. Deglaze the pan with the red wine and allow the alcohol to cook out. Add the rest of the ingredients, bring to the boil and then simmer for around 40 minutes.
No Comments! Be The First!
Leave a Reply
You must be logged in to post a comment.