Posted By Stephen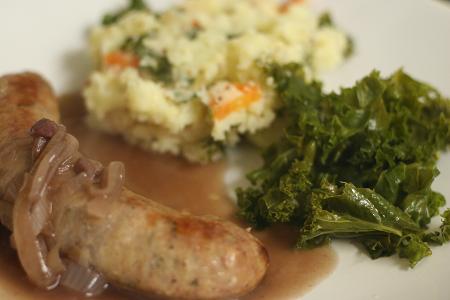 Bonfire night. Have to have bangers and mash according to Kerri. I heartily endorse this idea. So before a delay-ridden and noisy teenager-ridden bus trip to Alexandra Palace to watch fireworks, we tucked into this meal. The sausages were sage and onion (and pork, obviously) from the Kerri Pig. They were fairly coarse in texture, very meaty and really tasty – more of the meat than of the sage and onion, but that is of course fine. Our mash contained butter, milk, cheese, mustard, carrots and kale (and potatoes, obviously). It too, was really good. The whole meal was a flavour extravaganza; just a pity we had to eat it so quickly to catch our ill-fated bus.
No Comments! Be The First!
Leave a Reply
You must be logged in to post a comment.