Posted By Kerri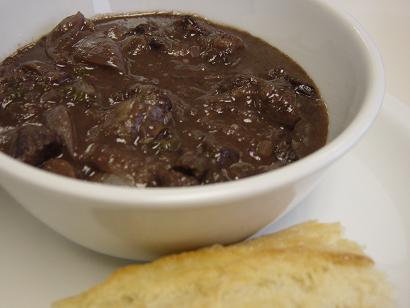 I cooked this on Monday night, we were supposed to eat it last night but we went out and there was food there. We had it for lunch today, it wasn't bad as a first attempt but needs some more thought. This is the recipe I followed:
Burgundy Beef
1 pack braising steak
Butter
Olive oil
1 onion, chopped
2 cloves garlic, crushed
100g lightly smoked bacon lardons
Flour
1/2 bottle red wine
2 anchovy fillets in olive oil, drained and chopped
100g button mushrooms
Flat-leaf parsley, chopped, plus extra to garnish
Instructions
Preheat the oven to 170°C, gas mark 3. Pat the beef dry on kitchen paper and cut into chunky pieces. Melt half the butter and half the oil in a large frying pan and fry a handful of the beef for 3-4 minutes, stirring until the meat is thoroughly browned. Drain with a slotted spoon and transfer to a large casserole dish. Fry the remaining meat in small batches, adding a little more oil, as necessary. Transfer to the casserole dish.
Add the onions and remaining oil to the pan and fry gently for 5 minutes until beginning to brown. Add the garlic and bacon and fry for a further 2 minutes then stir in the flour and cook for 1 minute.
Gradually pour the wine into the frying pan and bring almost to the boil, stirring often. Add the anchovy fillets and pour over the meat. Cover with a lid and cook in the oven for 1½ hours or until the meat is tender.
Meanwhile fry the mushrooms in the remaining butter until softened. Add to the casserole dish with any pan juices and the parsley. Season and cook for a further 10 minutes. Serve, sprinkled with extra parsley.
I didn't cook it in the oven, I left it on the hob. I also just threw in the mushrooms at the same time as the wine.
If there is a next time, I think more seasoning, more herbs, more bacon and more mushrooms.
So, the quest for the perfect beef casserole continues.
No Comments! Be The First!
Leave a Reply
You must be logged in to post a comment.