Posted By Kerri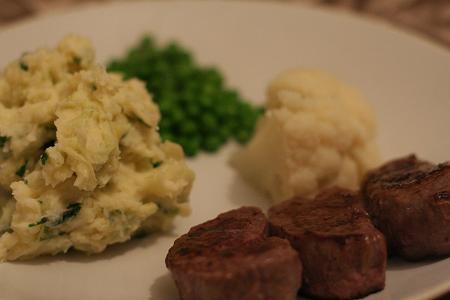 We're moving on Friday.  To a better flat but a smaller freezer.  This is painful for me.  I like to freeze things for emergencies.  Part of the getting-used-to-not-having-a-freezer has been using up all the old stuff, which has been good because a lot of it I had forgotten was there.  I figure you're not so fussy in an emergency so tend to throw any old thing in there.  Consequently, we've eaten a lot of thrown-together meals recently.  This was one of them.  It was however quite good.
The mashed potatoes with leeks and cheese were, in my opinion, brilliant, the vegetables were good and the ostrich was ok.  I think Stephen liked the ostrich.  This is about the third time we've had it and it was better this time than it has been before, but I can't say it's a favourite of mine.
G
No Comments! Be The First!
Leave a Reply
You must be logged in to post a comment.