Posted By Kerri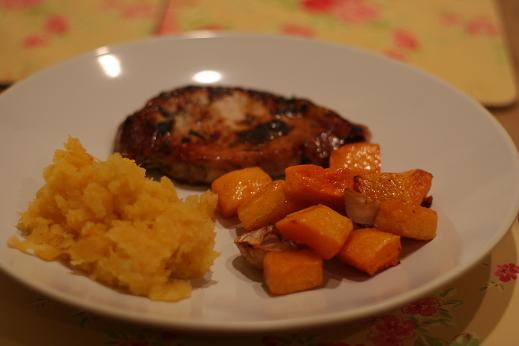 We're kind of in limbo at the moment, no vegetable box to plan our meals around, no weekly menu plan to work to and barely any food in the house. This is partly due to our recent move but also, partly due to the fact that we are GOING ON HOLIDAY on Wednesday 🙂
So, last night we had decided we wanted roasted vegetables. Unfortunately, our local M&S vegetable section had morphed into a Christmas Gift Shop so we were forced to abandon our roasted vegetable plan and take home a butternut and a swede instead. Stephen roasted the butternut with oil and (???) and mashed the swede with s&p and nutmeg.
With the vegetables, we had pork chops. I bashed up some garlic, salt, bay and rosemary and rubbed these on the chops before Stephen sealed them on the hob, they then went into the oven for ten minutes. Better than grilling them but still a little dry. The quest for perfectly cooked chops continues…
No Comments! Be The First!
Leave a Reply
You must be logged in to post a comment.