Posted By Stephen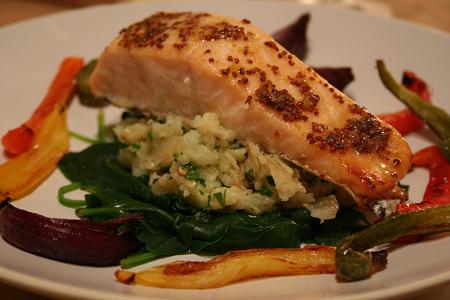 This was my idea and something I used to cook quite a lot, it didn't come out the same as it used to though. I think it's because I usually cook fish for twice as long as it actually needs as I'm so scared of fish poisoning. The extra cooking time means the honey goes all sticky and crunchy. Stephen cooked this and it was therefore cooked properly and not all dried out.  Next time though we could blowtorch the top of it, that would make the top sticky and crunchy.
We had the salmon with roasted vegetables, crushed new potatoes and spinach. This was Stephen's plate, mine wouldn't be all mixed up like that.
G
No Comments! Be The First!
Leave a Reply
You must be logged in to post a comment.