Posted By Kerri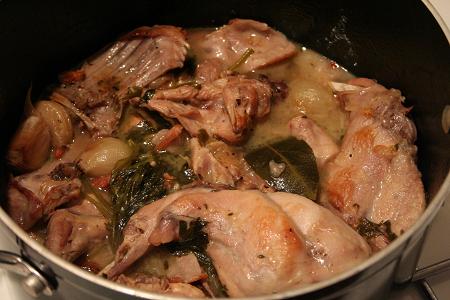 Today, we cooked rabbit. It's been on our "Things To Cook Soon" list for a while and yesterday, we found some in Selfridges Food Hall.
The recipe was from Fergus Henderson's "Nose To Tail Eating", a book we've had for a while but not cooked from.
It was quite a simple recipe, brown the rabbit then add garlic (20 cloves!), shallots (12!), lardons, parsley, thyme, white wine and dry sherry. It was baked in the oven for an hour and a half.
It was really good, it did taste a bit like chicken but had a stronger flavour and the meat itself was denser.
We served it with winter greens.
No Comments! Be The First!
Leave a Reply
You must be logged in to post a comment.