Posted By Kerri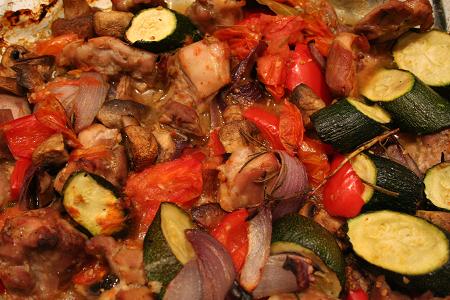 Today, we decided to cook something with chicken. After the elaborateness of yesterday's meal, this seems a little plain and dull but it was actually very tasty and could easily be adapted into a number of different meals.
Chicken thighs, red pepper, red onion, courgette, mushrooms, garlic, rosemary and some disappointing wine that had been languishing at the bottom of the fridge for too long. All chopped up and thrown into a roasting dish…cooked for about half an hour and served with crushed Jersey Royals and purple sprouting brocolli. A tasty, quick mid-week meal.
G
No Comments! Be The First!
Leave a Reply
You must be logged in to post a comment.