Posted By Kerri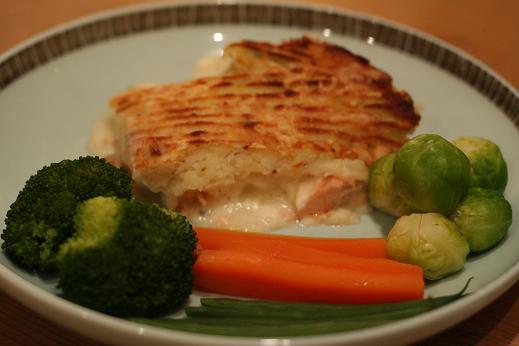 We've cooked fish pie a few times in the past but always with varying success. Today's method was slightly different and more successful. Rather than poaching the fish in milk as we usually do we added it to the dish raw with some white sauce (which had been steeped with celery, carrot, shallots and capers), it seemed to make a difference to the flavour of the fish as well as the texture.
120g salmon
240g cod
Broccoli
250ml white sauce
2 large potatoes, mashed with butter and milk
50g cheese
Arrange fish and broccoli in an oven-proof dish, cover with white sauce and mashed potatoes. Sprinkle with grated cheese and bake for 20 minutes.
We served this with more broccoli, green beans, carrots and brussels sprouts.
Next time I'd like to try it with some smoked fish, perhaps instead of the cod. The salmon was tasty but the cod was quite bland. Parsley would be a good addition too.
No Comments! Be The First!
Leave a Reply
You must be logged in to post a comment.