Posted By Stephen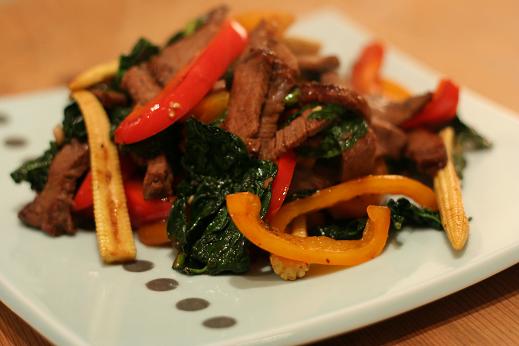 We haven't posted for a few days as we were away over the weekend. When we got back, cooked roast beef but didn't end up taking a picture of it because we were rather hungry and just started eating. Luckily we managed to restrain ourselves enough to leave some beef for a stir fry today.
We did a style of stir fry that we've had a few times recently: beef (or chicken) with chilli, garlic, soy sauce, fish sauce and basil. We added a number of vegetables to it today – baby corn, red pepper, orange pepper, spring onions and cavolo nero – and served it with a bit of jasmine rice. We used normal sweet basil rather than holy basil as the holy basil needs to be added a lot earlier if you're using it and therefore you can't use it if you forget. It turned out rather well, although the cavolo nero soaked up a lot of soy sauce and became rather salty.
No Comments! Be The First!
Leave a Reply
You must be logged in to post a comment.